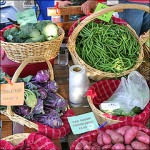 From the Missouri Department of Corrections:
Restorative Justice Garden Program donates record amount of produce, nearly 163 tons of fresh fruit and vegetables given to help those in need
Jefferson City, Mo., 12/13/2013 — The Missouri Department of Corrections announced today that its Restorative Justice Garden Program has donated nearly 163 tons of fresh produce this year to local food pantries, shelters, churches, nursing homes and school districts throughout the state, shattering last year's record of more than 117 tons.
For many of the local food pantries, shelters and churches, the offender-grown produce is the only fresh produce that is available for those Missourians in need. Nursing homes and school districts also take donations from the institutions to incorporate the fresh fruit and vegetables into the meals for its residents and students.
"This year's record harvest is a testament to the hard work and dedication of our staff and offenders who are helping the less fortunate throughout Missouri," said George A. Lombardi, director of the Missouri Department of Corrections. "Our Restorative Justice programs provide offenders the means to help repay their debt to society, and it teaches them the value of compassion, which is a quality many of them lack in their lives."
Northeast Missouri Correctional Center in Bowling Green was the department's top producer this year with more than 62,000 pounds of produce donated. Boonville Correctional Center donated the second-largest amount of produce this year with more than 49,100 pounds, while the Jefferson City Correctional Center donated more than 47,400 pounds. Moberly Correctional Center also donated 5,000 plants to local food pantries, as well as to the Boonville Correctional Center's Restorative Justice Garden.
The department's Restorative Justice Garden Program operates without the assistance of tax-payer money and grows a variety of produce every year at 20 of the 21 adult institutions and three of the community supervision centers of the Division of Probation and Parole in Missouri. Some examples of produce grown throughout the year at the institutions include tomatoes, bell peppers, lettuce, cabbage, broccoli, zucchini, yellow squash, butternut squash, cucumbers, carrots, green beans, cantaloupe, watermelon, okra, onions, jalapeno peppers, potatoes and pumpkins.
Offenders typically start cultivating the garden plots in April, while the harvesting usually begins in July and ends in late fall. All of the seeds and plants for the gardens are donated to the institutions, and in return, all the produce grown is then donated to local food pantries, shelters, churches and school districts.
Restorative Justice is an ancient belief that addresses criminal behavior with the fundamental philosophy that when a crime is committed, a debt is incurred. Restorative Justice holds offenders accountable, while providing a means for them to repay their debt to the victim as well as to the community. It gives offenders the opportunity to transition from an institutional setting with an improved attitude, which helps strengthen the social bonds that serve as the foundation of our communities.