by Rusty Fleischer, Program Director, and Jerry Medol, Director –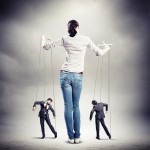 Passive-Aggressive is the third in our "It's All about Attitude" series. 
We often refer to the passive-aggressive attitude as "coming in the back door" or manipulative. The passive-aggressive person has a definite want and is invested in the outcome and but will not clearly express it or put it out up front. He or she directs the interaction to accomplish something he or she wants often without it ever naming it.
Passive-aggressive is a behavior of indirect hostility.  It is hurtful and offensive to others, who in turn likely feel used and disrespected. Trust often becomes a major issue in any kind of relationship with a passive-aggressive person.
It is important to differentiate between passive-aggressive and passive. The passive person is someone who is not invested in an outcome and may not have a want in a situation.
The various behaviors that a passive-aggressive person adopts, knowingly or unknowingly, are intended to control or influence other people or situations.  They often are out of touch with or in denial of their own feelings and tend to avoid or deny responsibility for their actions.
Interestingly, even though passive-aggressive people don't tell others what they want or how they feel, they usually expect others to know what they want or how they feel. They are often disappointed and resentful when their want is not fulfilled. The disappointment and resentment all too frequently lead to anger and mistrust and the breakdown of relationships. Often the disappointment comes out in the form of shame, criticizing and judging those who don't read their mind correctly.
One of the common methods of the passive-aggressive person is to blame others and use shaming words and statements when they don't get what they want (the unrevealed want). A lot of "you should have….." or "why didn't you….?". Or telling you about you in statements such as "You are not willing to…." or "You never listen…." or "What's wrong with you is…".
Often part of the passive-aggressive person's pattern includes playing the victim or martyr. A sentence such as "Don't worry about me", or " I don't need help", can be followed by big sigh, a downcast look on their face or a dramatic exit.
Dismissive and disrespectful answers like "whatever!" and "never mind!" or "you wouldn't understand!", "I only did it because you wanted me to. "are part of the passive-aggressive lexicon.
Hitting below the belt and sarcasm also play a major role in passive-aggressive behavior. Something such as "I see you changed your hair style. I guess I'll have to get used to it." Or, "I was just joking, don't take me so seriously," These are passive-aggressive comments that translate to "I'm right and you are wrong".
At our office we see many clients who are passive-aggressive themselves or they are in a relationship with a passive-aggressive person. A typical example of this is Mike and Jane who started coming to see us about a year ago. They have been married for 25 years and have a son and daughter in college.
Mike, 56, is a senior executive in an international corporation and travels extensively for business. Jane, 51, is a part-time receptionist at a medical center. Over the years, with Mike's corporate rise, they became very invested in his success. That meant that Mike focused everything on his work. Jane did whatever has to be done at home to support Mike. She became the planner and implementer behind everything the family did. She took care of Mike, their two children in college and her elderly, sick mother in Nebraska. Mike's career was the central family force that everybody focused on to make sure that the ship didn't get rocked. This put Jane on-call for any and all activities to accommodate his schedule. She took her responsibilities to make it all work very seriously and Mike felt very important.
As time passed, Mike succeeded in his career and was promoted to corporate officer and senior executive. He became more and more detached from his family. He was either gone or so busy with work that he had little time for family activities or responsibilities. He became a person who just gave orders and told others what was wrong with them. He had expectations, made assumptions and when he didn't get what he wanted he painfully shamed them.
As their children grew up and went off to college, Jane came to realize that the stress and burden she carried was too big a responsibility. Her life had become a continuous round of non-stop effort in order to hold the family together to compensate for Mike's absence. The disrespect and hurt she felt with Mike's domineering and abusive attitude toward her had become intolerable.
Jane's upbringing had taught her that no matter what happened, as a wife this was her job she and she needed to just stuff it. She did, for many years, until she realized how basically disrespectful and uncaring Mike's attitude had become.
With the threat of leaving, Jane insisted Mike get help to address his anger and his anger-related behavior. This is brought him to our office to work with Jerry. As often happens in our practice, this also brought Jane to our office to share her version of what was happening in their marriage. At a certain point she started to work on her own anger issues.
Both Mike and Jane are works in progress. Mike is working to develop feelings and sensitize his awareness for himself and others.
How honest Mike is capable being with himself and how deeply he addresses his own needs will likely determine the quality of his relationships in the future.
Jane is well on her way to creating a new life. After deciding she wanted  a separation, she has taken an apartment on her own. Seeing that her mother's health has stabilized and her kids are doing well in school, she has started to take care of other people less and takes care of herself more. Jane's work is about her learning to recognize her own wants and resist the caretaking trap.
All names have been changed to protect the privacy of clients.