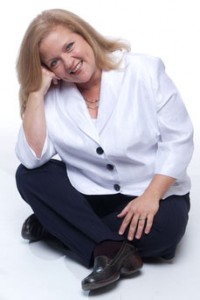 Certified Master Coach Trainer and Regional Vice President with the Certified Coaches Federation, and owner of a training, coaching, and consulting company, Sherry Prindle has delivered over 3,000 full-day training seminars and at least 400 keynotes over 12 years across all 50 states and 6 other countries in 3 languages. She teaches a variety of topics to corporate and public groups, and all of her training programs have one thing in common: a behavioral component. She feels the most important training for humans is on self-discipline and emotional control; learning how to use the mind and control actions and habits is the cornerstone for accomplishing everything else in life.
She certifies Life and Executive Coaches as well as Corporate Candidates. Every new speaker for Fred Pryor Seminars goes through her day-long speaking preparedness program, which is a permanent part of their lauded Professional Trainer Certification. Her passion comes in the form of her tag name, the Motivational Mastermind: Masterminding Avenues of Growth and Streams of Income for Aspiring Life Changers.
Co-author of the book 15 Winning Ways to Better Living, Sherry keeps a travel and life-experience namesake blog as well as numerous topic-specific pages, forums, and projects such as: "Who Moved my Chicken Soup?", "School of Soft Knocks", "Stop Catering to the Slackers", "Stop Greasing the Squeaky Wheel", and "What Business Travelers Want".
Sherry has an M.A. in Interdisciplinary Studies (Business and Linguistics) from the University of Texas at Arlington and a B.A. in Communications and International Relations from William Jewell College in Liberty, Missouri.
She lived in Fukuoka, Japan for four years where she developed English language training programs, headed cultural exchange projects, assistant directed and starred in television news magazines and documentaries, and did news correspondence for RKB-Mainichi Television in Japanese. She also lived in Moscow, Russia where she produced and hosted her own "Morning Zoo" radio show on Radio 7.