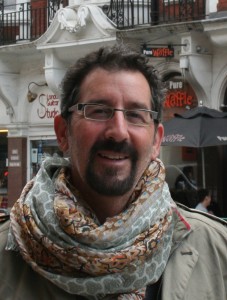 Andy Wolff's  education includes a degree in Marketing from The American University in Washington, D.C., and certificates in Elementary education and massage therapy. He has worked in food service, restaurant management, early childhood and elementary education, as professional ski instructor, and as a massage therapist. He currently owns and operates 80 Acres , an event center located in Leavenworth, Kansas. He is trained and works with Jerry and Rusty as a facilitator in the Anger Alternatives "Stoppit!" © Program "
"My life's work is to work with others to improve their quality of life. To this end I have spent 5 summers volunteering at an AIDS family camp in NY, trained with the American Red Cross to teach CPR and First Aid, and worked the Utah AIDS society".
He is married to Toma and together they have a son Simon (11) and a daughter Ava (9), and a black and white Border Collie mix named Venice. They enjoy traveling, biking, playing tennis and skiing.