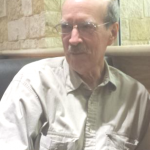 Larry, a clinical psychologist, specializing in the treatment of emotional trauma, has been in the Kansas City area since 1975.  During that time he has worked in both inpatient and outpatient settings addressing both distant and recent trauma experiences.  He is proficient in the application of EMDR since his original training in 1994 and is active in local and regional trainings in this form of treatment.
Larry is also an active member of the ManKind Project, an international organization dedicated to providing men a means of personal growth and development.  Since his initiation in Fall, 2010 he has served as a staff member for the semi-annual initiatory New Warrior Training Adventure weekends.
Personally, Larry has one daughter, who currently lives in the Denver area with her husband and two children.  Today, Larry's pride and joy is his Chocolate Lab, ZeeZee, who is his constant companion both in and out of the office.  He brought her home from Lab Rescue in Spring, 2010, and they have been a joyful item ever since.